welcome to the historic
La Cueva Farm
Experience Northeastern New Mexico.
At La Cueva Farm, there's something for everyone: Explore the Historic Romero Hacienda and Grist Mill, Wander through our gardens and Nursery, pick your own fresh raspberries in our "You pick it" fields, shop for gifts and gourmet raspberry products in our store, and eat a sandwich, frito pie or ice cream sundae in the cafe.
Shop in our Store
LA CUEVA STORE OFFERS AN ASSORTMENT OF local products, HAND-PICKED FOR THEIR QUALITY AND TASTINESS. OUR ORIGINAL RASPBERRY JAM, VINEGAR AND TOPPINGs, HAVE BEEN named award winners BY THE ALBUQUERQUE JOURNAL.
"You Pick It" Raspberry Field
Located in the beautiful foothills of the Sangre de Cristo Mountains, Our raspberry fields are grown with attention to every detail. No herbicides or pesticides are used on the crop, and customers often eat their berries straight from the vine.
Six different varieties of raspberry (Carolinas, autumn brittens and autumn bliss, heritage, polentas, and polkas) are grown on the ranch, each with a slightly different flavor and maturing at slightly different times.
The "You Pick It" Raspberry Field is open from mid-August until mid-October, but THE CROP IS WEATHER DEPENDENT.
explore the nursery
Shop for the perfect plant for your home or garden. The perennials, annuals, and vegetables, propagated in our cold frames, are grown to thrive in the high country of northern New Mexico. Our plants are all grown from seed, and We are ready to help you select the plants that fit your needs. The nursery generally opens the first week of may and remains open throughout the summer while we have plants available.
Stroll through the Gardens
Nestled around the adobe walls, our flower beds are filled with vibrant annuals and perennials; hollyhocks, sunflowers, lavender, Russian sage, roses, columbines, daisies, peonies, petunias, and many other colorful plants. Aspen trees, and one of the largest blue spruce you are likely to encounter, grow amidst the grass and floral beds.
gardens new mexico
New Mexico adobe
adobe new mexico
La Cueva Mill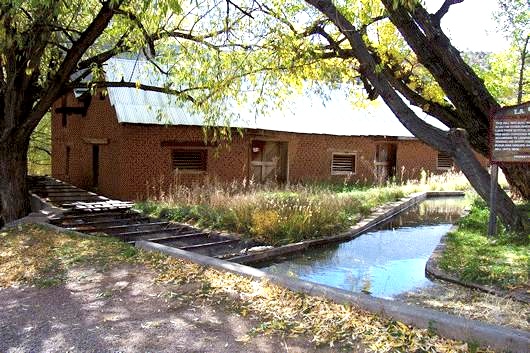 Enjoy delicious sandwiches and popular New Mexico fare: Frito pies, tamales and red chile, as well as several types of salads, and our soft serve ice cream drenched in homemade raspberry topping and fresh raspberries.